Started this before change to "New Blogger", as backup in case of trouble with digiphoto blog "In a Small Dark Room", or rants & links blog "Hello Cruel World" . Useful - at one stage Dark Room was there, but like the astrophysical Dark Matter, we could't see it ... better now, but kept Just In Case.


---
MY OTHER PLACES
Hello Cruel World
(mirror)
Chris' Memorial Site
I
n a Small Dark Roo
m
My Profile
(Fame!)
unashamed cupidity roolz
...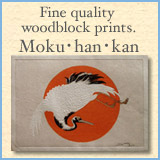 OTHER'S PLACES
Gleet: ID Redacted Windows of the Soul
Wondering Minstrels
The Bleeder All Year
ABC (Australia)
Rainforest site
New Webdiary
Hunger site
Film Reviews
Daily Imagery
Unnatural Opera
Flickrzen pictures
Make Poverty History
Words, Words, Words
Orwell links
Tlaloc
xkcd
Idiocentrism
Scholarpedia
Galaxy Zoo (DIY)
Gutenberg Project
Gnomon Publishing
Yale's Avalon Project
Mark Harden's Artchive
SETIS: Australian Texts
Andy W Robertson's
Unclaimed Money
SETIS Images
Unclaimed History


Systema Naturae 2000
OTHER'S BLOGS
Making Light
Neil Gaiman's Journal
Creek Running North
Nothing New (Bellatrys)
Body & Soul
Digby (Hullabaloo)
OzBlogs
Corpuscle Olympics
Road to Surfdom
M Klishis (Random)
Uncertain Principles
-->
Respectful of Otters
Respectful Insolence
on Mbaye
Diagne
Orcinus
TinyURL
— useful utility
---
a Big Day
To Main Page
ARCHIVES
2002-10
2002-11
2003-03
2003-05
2003-06
2003-07
2003-08
2003-09
2003-10
2003-11
2003-12
2004-01
2004-02
2004-03
2004-04
2004-05
2004-06
2004-07
2004-08
2004-09
2004-10
2004-11
2004-12
2005-01
2005-02
2005-03
2005-04
2005-05
2005-06
2005-07
2005-08
2005-09
2005-10
2005-11
2005-12
2006-01
2006-02
2006-03
2006-04
2006-05
2006-06
2006-07
2006-08
2006-09
2006-10
2006-11
2006-12
2007-01
2007-02
2007-03
2007-04
2007-05
2007-06
2007-07
2007-08
2007-09
2007-10
2007-11
2007-12
2008-01
2008-02
2008-03
2008-04
2008-05
2008-06
2008-07
2008-09
2008-10
2008-11
2008-12
2009-01
2009-02
2009-03
2009-04
2009-05
2009-06
2009-07
2009-08
2009-09
2009-10
2009-11
---
---
There is nothing. There is no God and no universe, there is only empty space, and in it a lost and homeless and wandering and companionless and indestructible Thought. And I am that thought. And God, and the Universe, and Time, and Life, and Death, and Joy and Sorrow and Pain only a grotesque and brutal dream, evolved from the frantic imagination of that same Thought.
Mark Twain (letter to Joseph Twichell after his wife's death)
[me, on a bad day]
---
WRITER'S LINKS
Absolute Write Paypal donation button: Absolute Write is one of the leading sites for information on writing and publishing, especially the scam versions thereof. It has a broad, deep online community with an enormous message base going back years. Now it needs help. See the
details and discussion here
Preditors and Editors
Everything you wanted to know about literary agents
On the getting of agents
Writer Beware
Miss Snark
Writer's Net
---
(and my Wish List)
---
2006-02-28
Erich Kastner, writer
Erich Kastner at the Looniverse
www.thelooniverse.com/books/kastner.html
To establish the proper atmosphere, this is as good a place as any to show a sample of the bill you got for having your husband killed by the Nazis for political, or any, reasons.
Hangman's Bill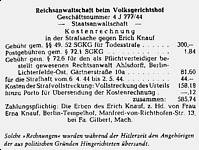 Yes, you were supposed to pay for the execution (or else...) It comes to a total of what now must be well over $6000. They even charged you 12 cents for the stamp to send you the bill.
A Sample of Erich Kastner's Poetry
Kennst du das Land, wo die Kanonen blühen?
Du kennst es nicht? Du wirst es kennenlernen!

Do you know the country where the cannons bloom?
You do not know it? You will get to know it!
[Mein Gott! I actually know the poem this is based on - I did an
amateur translation
of it, used on
Chris' Memorial Site
.]

Kennst du das Land, wo die Zitronen blühn,
Kennst du es wohl? Dahin! dahin

Do you know the land where lemon blossom grows,
This land you know? To there! To there;
And in the year of 1933 my books were burned with dark festive splendor in Berlin, on the large square next to the Opera, by a certain Mr. Goebbels. He triumphantly called out the names of twenty-four German writers, who symbolically had to be eradicated for eternity. I was the only one of the twenty-four who had appeared in person to witness this theatrical insolence...



Crystal Night, 1938


When, on November 10 1938 at 3 o'clock in the morning, I drove up the Berlin Tauentzien in a taxi, I heard glass tinkling on both sides of the street. It sounded as if dozens of wagons full of glass were being turned over. I looked out and saw, on the left and right, a man standing in front of about every fifth house, each using an iron rod to smash store windows with mighty blows. The job done, he walked over to the next shop with a measured pace and, with powerful calmth, dedicated himself to that one's still intact window-pane.
Except for these men, wearing black breeches, riding boots and civil jackets, there was no human being in sight. The taxi turned into the Kurfürstendamm. Here, too, men were standing at regular distances and with long bars smashed "Jewish" show windows. Each one seemed to have some five to ten windows for a job. Cascades of glass fell down, crushing on the concrete. It sounded as if the entire town existed of nothing but crashing glass. It was a drive right through a madman's dream.
Between Uhlandstraße and Knesebeckstraße I asked to stop, opened the door and was just putting my right foot on the street, when a man emerged from the nearest tree and softly and energetically told me: "Don't get out! Drive on at once!" It was a man in hat and cloak. "But listen", I started, "I just wanted to…" "No", he interrupted threateningly. "Getting out is forbidden! Get on your way at once!" He pushed me back into the car, beckoned the driver, threw the door shut, and the driver obeyed. On we went through the ghostly "splinter night".